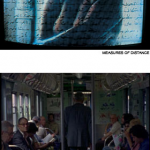 I highly recommend this screening. Mona

Hatoum's

Video letter and Chantal Ackerman's Film. Maybe they will give you inspiration for your future projects.
LETTERS – video screening
Wednesday June 30, 2010 at 8pm
Beirut Art Center
Duration: 101 min.
Entrance: 3 000 LL
Within the framework of the exhibition Witness by Mona

Hatoum

, Beirut Art Center will present

Hatoum's

video work Measures of Distance alongside Belgian filmmaker and artist Chantal

Akerman's

 News from Home. The two works deal with communication across continents between mothers and their daughters who have left home.
Mona Hatoum
Measures of Distance
1988. Video (color, sound). 15:26 min. English and Arabic
Measures of Distance is constructed from a series of grainy stills shot in extreme close-ups of Hatoum's mother in the shower of the family home in Beirut. The images are overlaid with a mesh of Arabic writing, like a curtain or a veil, which represent her mother's letters from Beirut to her in London. On the soundtrack can be heard an animated conversation between Hatoum and her mother overlaid with Hatoum's voice reading a translation of the letters into English.
The video is concerned with the artist's separation from her Palestinian family and in particular, her relationship with her mother.
The personal and political are inextricably bound up in a narrative that explores identity and sexuality against a backdrop of traumatic social rupture, war, exile and displacement.
Chantal Akerman
News from Home
1976. 85 min. French with English subtitles
Letters from Chantal Akerman's mother are read over a series of elegantly composed shots of 1976 New York, where our (unseen) filmmaker and protagonist has relocated. Akerman's unforgettable time capsule of the city is also a gorgeous meditation on urban alienation and personal and familial disconnection.
http://www.beirutartcenter.org/parallel-events.php?exhibid=115&statusid=2