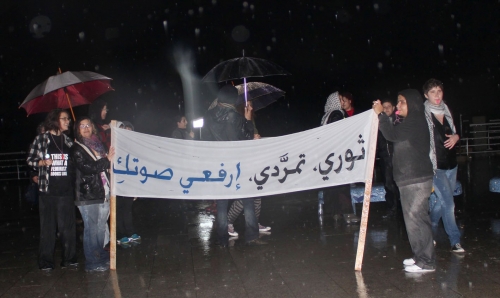 Last Thursday, Nasawiya hosted 5 activists for sex workers' rights from all over the world. A very intense talk kept us all silent for two hours, listening to experiences and a cause most of us are not familiar with.
And there it happened. At some point during the talk, I felt it, this awakening you have when you understand something new, something you've always avoided thinking about for fear of not having real answers. Once the talk ended, I got recruited. I have always known about the movement for sex workers' rights, but I always thought, ironically enough, that this was a western concept that doesn't apply to our society. I had assumed that we needed a different model, something that goes with the challenges women in sex work face in our part of the world, a place where, I thought, no woman would choose to be a sex worker. "When do we ever discuss choice?" I heard one of the activists reply to some of us who were explaining how women are forced into sex work in Lebanon every day.
It is true that many sex workers did not choose to be where they are today, but this argument should not be used to avoid addressing this issue from its right angle. And whether we like it or not, the prevalence of this discourse on lack of choice stops us from working on advancing the conditions that many women have to endure every day. Between the victimization and the criminalization of people in sex work, women are left working under the worst conditions.
I am fully aware that one talk, two hours, did not make me an expert on this issue. But it doesn't matter, what truly matters is being able to feel it. And how can you not when you listen to someone talking about it with such thrive that makes it so real and easy to understand? And don't we know by now, that in order to understand the real condition of women, you have to go to them, and talk to them? This shall be the next step in my own recruitment process.
The main question for me remains unanswered for now: how do we even come to address such an issue in our society? As radical as we might think we are, we still have a hard time fully understanding its different angles. So how do we expect this from a society that refuses to change and has rotted in so many years of ignorance towards any topic related to sexuality?
All of this made me rethink my tolerance for people who do not really understand my cause, or my feminism, and the excuses I give for their stubborn opposition and their biased arguments. But as feminists, we are not allowed to do that. We are not allowed to use arguments, regularly used against us, when addressing any issue whatsoever.
We feminists do not have the luxury of this ignorance.