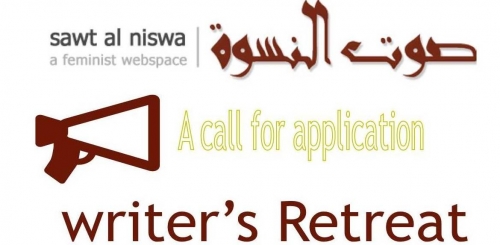 WRITER'S RETREAT
A Call for application
July 30- August 1st 2010
Broumana
SAWTALNISWA Calls forth feminist women writers to take part in a writers' retreat to discuss and write about many topics relevant to women, feminism and the process of writing.
The retreat will provide a space where the Niswa at SAWT will create a learning process about writing, language and identity.
The topics of the retreat will explore the what it means to be a woman who writes, and they will reflect on issues such the importance of our writing in the larger feminist context, questioning our writing as post-colonial agents,  online writing and making peace with our language.
The retreat, as we imagine it, is going to be  a challenging journey for us as women to speak about an intimate form of documenting our lives, thoughts and reflections. We want to walk through it together, understanding and unfolding the relationship we have with the language, since it is one of the essential tools in our emancipation.
If you are up for the challenge, drop us a line about yourself, the genre(s) of writing you write in most, and why you want attend the retreat.
Once the writers are selected, we will share the location and the schedule details. 
A contribution of any amount (between 2,000 to 20,000) is welcome to cover transportation, meals and other logistical needs.
Deadline for applying is 28th of July.
Write us at:
Best Regards
Al NISWA