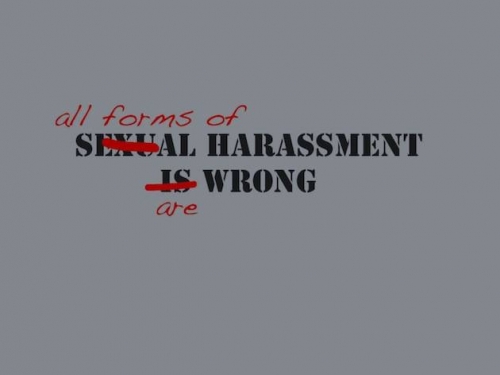 Sometimes I feel so confused, I'm under the illusion that I have to choose.
Where to go, what time is best, what I should not wear, what areas to avoid, with whom, what make-up should be kept on… How should I deal with a harasser or a rude leer? Where is least likely to have group of rascals that that I'll have to confront? A maze of places as a map forms a possible plan. All this, just to walk. For something as basic as the act of walking, in a small perimeter like central Beirut, it is indeed a headache.
Ahhh…Well, no. Actually I walk wherever I want. Because you see, I see it as completely normal thing to open a door and step out walking, in a space that belongs to us, the city. Apparently though, this is neither quite recommendable nor reasonable. Because, truth be told, it is not a normal context. And the more you learn that useful fact, the better you will navigate the network of acceptable/objectionable – read "ladylike"– and risky/safe situations.
Hey pedestrians, walkers, if thou art hiding, reclaim your city! Why must we engage in a dance of contortions and acrobatics, choreographed to avoid crazy cars? Swiveling my way through them, it's a street dance actually, with metal bodies, rubber wheels for feet, car horns as background music… And here we reach the subject at hand, the ceremony served only to women: The syrupy, foul faces of small-time harassers all lined up.
Wait, should the act of walking really be so stoic? Even daring?
Back to zero then. Just thinking and writing about it seems bizarre. Should one really ponder such liberty? Are we actually really in a jungle? Uncivilized and savage, with strange incidents and looming faces popping from behind every page of a story about a girl walking in Beirut?
When I was younger, I used to dress up like a boy to go out into the streets of civil war Beirut with my brothers. To feel unassailable, I added a kitchen knife as a pocket accessory to go get a sandwich 500 meters away from the house, and prove we could be counted on. As a boy, I felt I could be less vulnerable than… the street was a combat zone.
That was during the civil war, and now Beirut graces the cover of The New York Times' travel page, paraded in clichés of a festive city. And it's still easier to be a boy on the streets…
As a sample of the comments heard on the street, let's start with the nice ones: "Haram timshi a3l ard" (It's a pity you should walk on the earth). Walla, Neruda himself would have befriended my guy here. "Fini se3dik bil mashi?" (Could I help you in walking?) "Yukborni el a3sabiyeh" (How sweet the frown!)
Other more problematic ones are found in the likes of "Shu ra2yik t'2assri hal short ba3d shweyy? (How about you shorten those shorts a little more?) Apparently, shorts are objectionable for women, and lead to the territorial "Shu a3m ta3mli inti bil zabt inti hon?" (What exactly do you think you're doing here?) questions. And these are, of course, mild compared to the other forms of more literal sexual harassment that any woman living in Beirut has surely experienced if she hasn't been locked in the attic for the past 20 years.
But one night, not long ago, while leaving a place in Gemmayzeh, (central party zone ground zero), I was alone at about midnight. A guy jumps out and follows me to the secluded stairs up the narrow street, grabs my arm and tries to get close to me. The café is empty and the big adjacent parking lot is quiet. For a second I panic, then I start shouting at him. I tell him to stay where he is, and walk off with a fake march, promising him a rambunctious show-down if he doesn't back off, while I am in fact as scared as a rabbit.
Another time on a very sunny Sunday, I'm walking in the archaeological park next to Martyrs' Square. I take pictures of a boat parked in the port while the soldiers standing close by keep watch. Then, after 20 some photos, the soldiers decide to order me to go the barracks to be investigated (after checking the unclear pictures) and instruct me to walk in front of them. National security, it seems, demands it! As an explanation, their officer says it's a Sunday, and I'm being investigated because the soldier is bored and stuck to the barracks. I walk off while he's still talking. It would have been thoughtful to wish them more girls to harass as a goodwill gesture; for national security, of course.
I walk on the Corniche, it's evening, warm weather and the seaside is quite crowded. A guy whizzes by on a bike. Walking a little further, he passes by again while staring, then roams around staying close, crossing my way again and again, pushing for an exchange of looks and maybe smooth revealing eye-locks. I dismiss it and ignore him. He tries to talk to me, introduces himself and tells me his name; I walk faster telling him to not follow me. The guy is quite insistent though, and keeps following me from a distance until I finish my walk and leave the area. Back home, a few minutes later, the entrance buzzer rings, they tell me it's for me, an unfamiliar voice says my name and that he's the corniche bike rider. I don't know how he got my name. He must have been looking for new friends, possibly.
I just want to have the liberty to be outdoors and not feel myself as susceptible goods. The simple liberty to open a gate and go out prancing about as I see fit. Do I have to have a guy holding my hand so I feel safer? That would be indeed an accessory, quite a means of transportation. Are we reduced to accessing this liberty only through a man's benevolence?
So I'd like to walk out one day, with a short skirt, unkempt hair, maybe even more revealing clothing, and strut wherever I wanted to go, do a cartwheel perhaps on a sunny day, laugh when I want and not be so defensive lest someone make a comment. It's the space we inhabit beyond a window, an urban landscape, built by us, ungoverned and belonging to none but us, the scene under the sky I could call mine.
The streets are indeed a social enclave, and continued harassment just highlights that in a patriarchal society such as this one, the indoors is seen as the territory of women, while the outside public sphere, the street, is understood more as the privatized province of men. It's not only men, but society as well, that reinforces this restriction. So that when an incident takes place, it is viewed as the result of some shortcoming on a girl's part, and she finds herself answerable for a lack of foresight. Blaming the victim is an automatic and necessary first response to an incident, in a pattern of known social occurrence; she is indeed "going against common sense". The symptom is censored and tabooed, while the cause remains undealt with and lurking. A girl walking late at night has many labels and suspicions attached to her, because there has to be a specific reason behind why she would put herself into such a "situation." It goes without saying that, for a boy, no labels are attached, no suspicions raised.
The street is the first public space outside the private one, the first zone outside closed doors, a foremost public area, providing a model where all these divisions can be explored. Look at how revolutions and change happens – uprisings and revolts occur when the streets are no longer regulated, some sort of a system breakdown comes about, and gender divisions are no longer evident. Patriarchy falls down as the elements of a system are defied, and the streets are flooded with free will. The real revolutions only happen when we have an equality of the sexes on the streets. Read that, all the brothers and sisters who perpetuate this divisive system.
I want to be a free to walk on the street! On the pavements, at any time. A basic simple thing, gratuitous to all. Free to be in a space beyond walls, taking in a sense of what surrounds us, things I have yet to see, light surrounding the dusk, the breeze passing by, discovering and shaping a sensual memory of a city at liberty. Without calculations – unbound, unrestricted, and unwary.