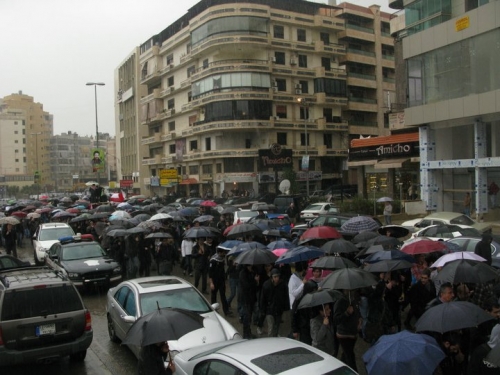 The demonstration against sectarianism, held in the pouring rain, surprised everyone present with its size and enthusiasm. This massive group braved the rain and the thunder. They marched in peace. Drenched to their core, the demonstrators chanted ironically, "We will swim to the Judicial Court!"
But that wasn't all the demonstrators pledged. Unwilling to put up any longer with a government monopolized by the same group of individuals and their progeny, young and old from different backgrounds demanded to obtain their rights to a decent life, and demanded an end to the sectarian system that had robbed them of these rights.
"I have the right to vote for a candidate of my own choosing, no matter what his or her denomination is. I refused to vote for the imposed choice," declared Nadine, a mother in her forties.
"I refuse to migrate to another country. I want to find a job here. I want to stay among my people, that is why I came down today," answered J, a senior at NDU.
"I am simply here," said Eli, "because I want to marry F, my Muslim girlfriend. I can't afford the cost of a trip to Cyprus. Why do I have to travel to another country to marry a compatriot?" he asked.
With living expenses constantly on the rise, and prices soaring uncontrollably to profit those highly placed, many in the demonstration explained their attendance as a demand for a government accountable to the people. "My salary barely covers the price of gas and utilities. We have the highest rates for cell phones and internet. We pay for these services – and then they're not even provided well!" added Rana, a bank employee. "We seriously must have the slowest internet connection in the world," said Mona.
"I receive no health coverage," pointed out S,in her 50s. "If I were to get sick, I won't be able to afford to pay the hospital, which will then refuse to admit me," she raged. "I worked all my life and I saved nothing."
All those present voiced similar concerns, saying they  are fed up with the current ruling system. "They are all a bunch of thieves," called out the crowd.
"This system has proved its failures," said Nadine, in her 40s. "We are constantly living under the threat of a war, whether civil or coming from Israel. Our leaders bickers in the morning, then dine and wine together in the evening, while urgent matters affecting our lives are left unattended," she exclaimed, exasperated. "I was born during the civil war, I grew up watching as these warmongers turned into so-called 'politicians!'"
As the rains continued, and the demonstrators marched, their demands grew louder. "Our leaders failed to provide us with a decent life. The same ruling people have provided us with absolutely nothing. I decided to come down under the rain today to demand a change in the actual system," stated a self-titled Concerned Citizen.