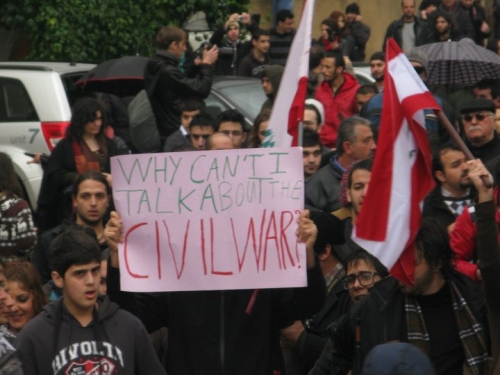 It's no secret that Lebanon's sectarian system is bad for, well, almost everyone unless you're an entitled clan leader perpetuating the patriarchy. And it's no secret that the sectarian system works by pitching various components of Lebanon's ever-numerous minority groups against each other, while the erstwhile leaders reap the profits.
But there is one group which, at 52% of the Lebanese population, is actually a flat-out majority. And that group, in terms of their income, their employment, their access to health care, their representation in the unions and the local and national government, and their legal rights, is perpetually the most shafted of all.
What it comes down to, plain and simple, is that the sectarian regime is bad for women.
As the only majority group in Lebanon, women earn less than men. By a lot. In 2009, Lebanese women's average annual salary was $2,430, compared to men's $7,789[i]. That means that for every dollar a Lebanese man earns, a Lebanese woman earns 31 cents.
In 2002, Lebanon was ranked 153rd out of 163 countries in terms of women's rate of economic activity[ii] – roughly, only one-third of Lebanese women are working[iii]. In terms of people who want to work but can't find a job, more women (9.6%) than men (7.4%) are unemployed[iv].
When they are employed, working conditions are not good for women. Women's incomes are unfairly taxed, as they cannot access the tax breaks provided to married men or to the male head of household, regardless of her marital status or the support she provides her family[v].
At only seven weeks, Lebanon's maternity leave is the shortest in the Arab region and, although women cannot be fired for getting pregnant, their employment can be terminated for "other" reasons throughout their pregnancy and maternity leave[vi]. Moreover, only 46% of all women (and only 17% of extremely poor women)[vii] are covered by even one type of health insurance.
When it comes to political engagement and representation for women, Lebanon flat out sucks. There are only four women in Parliament, out of 128 seats, and only 12 women were even candidates for the 2009 elections. These figures are lower than the average for the Middle East and North Africa, which already boasts the lowest average in the world[viii]. Moreover, the last Cabinet only had one woman out of 32 Ministers; the first ever woman Minister in the Cabinet was in 2004.
In terms of holding positions of decision-making, the situation is replicated in the public and sectors: As of 2008, only 3.8% of Lebanese ambassadors are women, 13.6% hold the position of director-general, and only 0.4% of all municipalities are headed by a woman[ix]. As of 2000, no woman held a leadership position in any of Lebanon's trade unions or professional associations, and there was only one female dean in a Lebanese university[x]. It should be pointed out, however, that 45% of NGOs in Lebanon are administered by women[xi]. Go figure.
And, of course, Lebanese law discriminates against women. Lacking a civil personal status code, Lebanese women, like men, are ruled by religious courts, all 18 of which are discriminatory against women in terms of marriage, divorce, inheritance, etc.[xii][xiii] Lebanese women still cannot yet pass on their nationality to their children or to their husbands. The Lebanese Penal Code ensures reduced sentence if a husband murders his wife due to alleged adultery, and provides a reduced sentence for all other crimes relating to "honor."
The point, sisters, is simple: The Lebanese sectarian system has been, and will always be, bad for women, and the only way you are going to claim your equal rights is when the system itself is changed.
So, where were you on Sunday? Many of you were out demonstrating and getting soaked and shouting – and, sisters, you sounded fabulous. But where were your demands? How can the revolution bring "bread, freedom and national dignity" if half of the country is legally and economically second-class? We all know that taking down the sectarian system is linked to combating poverty, allowing civil marriage, establishing civil rights for Palestinian refugees, ensuring a living wage to men and women, guaranteeing fair working conditions to all, providing decent health care to all… And none of these, not one, can be achieved without the active participation of women. And none of these, not one, will be sufficient if, at the end, women are still poorer, under-employed, disenfranchised, and legally discriminated against.
This March 8 is the 100th anniversary of International Women's Day. Come to the Anti-Sectarianism campaign open meeting on March 6 with your demands, and then come March 8 to Take Back the Night. Because it's the same fight.
If it's all wrong, then it's all got to change. And that change begins now.
---
[i] ESCWA. 2009, Women's Control Over Economic Resources and Access to Financial Resources. Beirut: ESCWA, E/ESCWA/ECW/2009/2/Rev.1
[ii] CRTD-A. 2006, Caught in Contradiction: A Profile of Gender Equality and Economy in Lebanon. Beirut: CRTD-A.
[iii] World Bank. 2008a, The Environment for Women's Entrepreneurship in the Middle East and North Africa Region
[iv] UNDP, MOSA, CAS. 2006, Living Conditions of Households – The National Survey of Household Living Conditions, 2004
[v] ESCWA, 2009
[vi] ILO. 2010. Maternity at Work: A review of national legislation. Findings from the ILO Database of Conditions of Work and Employment Laws.
[vii] UNDP, MOSA, CAS. 2008, Poverty, Growth and Income Distribution in Lebanon
[viii] World Bank, 2008b
[ix] World Bank, 2008b
[x] CRTD-A, 2006
[xi] UNDP, 2006
[xii] UNDP. 2009a. National Human Development Report, Lebanon 2008-2009: Towards a Citizens' State
[xiii] UNDP. 2009b. Challenges to Human Security in the Arab Countries: The Arab Human Development Report