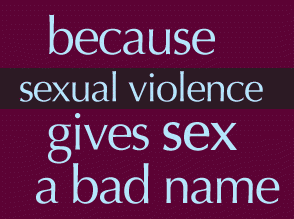 Because a law that hurts women, hurts men.
Because no one, under any circumstances, should ever be subject to any kind of violence, be it domestic, sexual, or psychological.
Because a woman cannot, should not be scared of her husband.
Because a son needs to be able to understand that protecting women is his best hope for a good future.
Because a man should never feel reinforced and supported by the law when he is abusing his power and strength.
Because living in fear is not living.
Because insults, sticks, and force leave irreparable damage.
Because I have a sister, a mother, a best friend.
Because I respect women and men, and the right of each to control her or his own body.
Because I want to live in a society that respects and protects men and women alike.
Because violence begets more violence, and frankly, we've had our fair share of violence in this country.
Because this is an emergency, this is important, this is crucial.
Because children need to be surrounded by love and care, not violence and hate.
Because I have to right to demand that everyone around me be free of any kind of sexual abuse.
Because sexual violence gives sex a bad name.
Because we've been silent for too long.
Because we are strongest when everyone is protected.
Because enough is enough.
Because it makes a difference.